Facility Rentals
Birthday (B'Earthday) Parties
Celebrate your child's special day with us
If you're looking for an exciting place to host your child's next birthday party, look no further. You can host your child's party at Aullwood Center or Farm! At Aullwood, we call our birthday parties B'Earthday parties, as we celebrate your child's special day by learning about our earth and some of its animals. A B'Earthday party is a fun and educational way to celebrate! Parties last two hours and can take place at the Nature Center or Farm. For more details on Aullwood's B'Earthday parties, please download the Birthday Parties at Aullwood: Happy B'Earth Day! brochure.
For a party at Aullwood Nature Center, your child will select a special guest to visit, a turtle or snake. Activities include learning about the animal, touching it, and maybe even feeding it! After meeting the special guest, the party will head outside for an exploration of Aullwood's trails for 15-20 minutes or explore the many displays in the Center. Parties at Aullwood Farm get children involved in chores! Guests will have the opportunity to collect eggs or maybe feed some animals. Then they will take a farm hike to meet the many animals that live at the farm.
After the guided activities, which last 60-75 minutes, groups will have the rest of the party time to celebrate! In a private room, you can serve refreshments, play games, and open presents. B-Earthday parties cost $150 for Friends of Aullwood members or $175 for non-members, for up to 15 children. The fee for additional children is $3 per child. Goodie bags are also available upon request for $5 per bag. For more information or to begin planning your party, call Aullwood Audubon Center at 937-890-7360.
Please note that Aullwood's Education Center, Farm Discovery Center, trails and property are smoke-free. No smoking is permitted in any location at any time. Also, please note that helium-filled balloons are not permitted at Aullwood due to the danger they pose to wildlife if released. We look forward to working with you to make your party a special one!
Learn and Engage with Aullwood
Get Involved with Our Community
There are many great ways to engage with the Aullwood community! Become a member, see our many volunteer opportunities, learn about internships and more.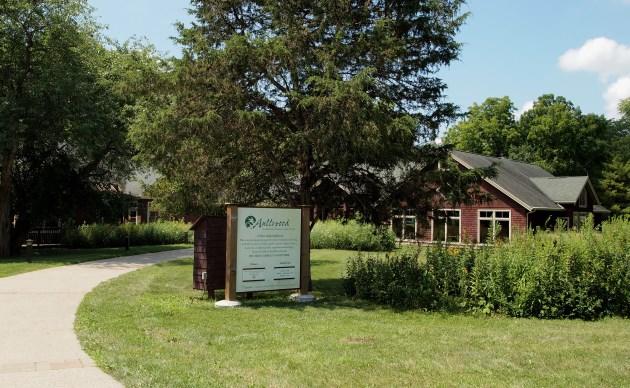 Read Our Newsletter
Our quarterly newsletter Aullwood Member News is the best way to keep up to date on all the wonderful news and events at Aullwood!