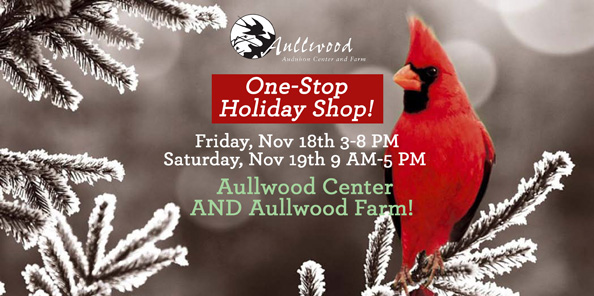 Join us for the second day of One-Stop Holiday Shop, a two day extravaganza happening at both Aullwood Nature Center (1000 Aullwood Road, Dayton OH 45414) and Aullwood Farm (9101 Frederick Pike, Dayton OH 45414), featuring a plethora of vendors, artists, crafters, museum stores and much more! Aullwood's Museum Holiday Shop Around and Holiday Art Fair are now combined into this one spectacular event! Admission to both Aullwood Center and Aullwood Farm is free this day.
This first annual One-Stop Holiday Shop brings local museum stores, non-profit organizations, and artisans together for your shopping enjoyment. Over 25 vendors and organizations will be here! Browse handmade jewelry, museum treasures, homemade jams, photography, pottery, baskets, soaps, and much more. Support our local small businesses and cultural organizations this holiday season. The Aullwood Café will serve soup, sandwiches and other goodies to keep you shopping strong!
At Aullwood's Nature Center, 1000 Aullwood Road, participants will include Frogware by Liz (pottery), Westcott House Foundation, Artifact Pottery, Photography by Hank, Heavenly Basket Designs, The Lincoln Society of Dayton, Nina Harfmann (photography), Dayton Art Institute, Kate Higgens (jewelry & scarves), Brenda Jennins (fiber), Rugs & Tatters (fiber), Humane Society of Greater Dayton, SunWatch Indian Village, Chickenmash Farms, Chris Rowlands (artwork), Natural Earth Craft (artwork), Phil Newport (woodworking), BEAMS in Guatemala, MS Woodturnings, Jack Southern (fiber), Nature Wildlife Photography, and Glass with a Past Jewelry.
At Aullwood Farm, 9101 Frederick Pike, participants will include the Garst Museum & The National Annie Oakley Center, Carole's Bead Art, Thomas Hock (watercolors), Through Jenny's Eyes (photography), Pat Klopfenstein (pottery), Bead Dazzled, Missing Peace Art Gallery, Lady L (fiber), Italiano (jewelry & photo notecards), Stacked Glass (upcycled glass vases) and Wegerzyn Gardens Foundation.
Can't make it Saturday, or want to get an early start? Join us Friday evening, November 18th from 3:00 PM to 8:00 PM for One-Stop Holiday Shop Day 1.
Saturday, November 19th, is also the date of the Friends of Aullwood Birdseed Sale, so be sure to check out the Birdseed Sale event for more information and great seed prices!
Aullwood's One-Stop Holiday Shop is sponsored by S.J. Meyer & Associates, Inc.
Sat, 11/19/2016 - 09:00
In the Community
45414
Dayton
,
OH
United States
39° 52' 23.8656" N, 84° 16' 29.8056" W
Ohio US
Aullwood Audubon Center and Farm
National
Aullwood Nature Center (1000 Aullwood Road, Dayton OH 45414) & Aullwood Farm (9101 Frederick Pike, Dayton OH 45414)