.
Center and Farm Open to the Public
Aullwood's Charity A. Krueger Farm Discovery Center and Marie S. Aull Education Center are now fully open to the public! Both Aullwood Farm at 9101 Frederick Pike and Aullwood Nature Center at 1000 Aullwood Road are now open 9 AM to 5 PM Tuesday through Saturday and 1 PM to 5 PM Sunday. Aullwood's Nature Center, Farm Discovery Center, trails and property are closed on Mondays. For more details on our status, call us at 937-890-7360 or email AskUs@aullwood.org.
General admission is free for children 2 and under, $7.00 for children 3 to 11, and $10.00 for adults 12 and over.
Members of
Friends of Aullwood
(our support group) and the National Audubon Society receive free admission with membership card. Aullwood is closed on most school holidays; please check our
Events Calendar
for the latest schedule changes and other events, or call 937-890-7360 for more information.
Aullwood's native animals have returned to their homes at the Marie S. Aull Education Center at 1000 Aullwood Road! Stop in for a visit. Our complete Nature Store and Gift Shop has also returned and reopened at 1000 Aullwood Road, and now includes our complete array of farm products for sale, including grass fed beef, all natural eggs, sustainably-raised pork and local dairy products! (Find out more about our current offerings on our
Farm Products page
.) All farm products are now ready for purchase at the Nature Center.
Aullwood's recently expanded eight miles of trails provide opportunities to see Bluebirds, Indigo Buntings, Red-Winged Black Birds, Goldfinches, and even the occasional Wild Turkey or Northern Bobwhite! Aullwood's trail system can be accessed from either Aullwood Farm or Aullwood Nature Center. Please see Aullwood's updated Trail Map and Brochure for trail details as well as general information about Aullwood. Please note that all of Aullwood's trails are open only when Aullwood is open, 9 AM to 5 PM Tuesday through Saturday and 1 PM to 5 PM Sunday. Aullwood's trails and property are closed on Monday.
=== IMPORTANT GENERAL INFORMATION AND GUIDELINES ===
Aullwood is following the recommendations from government officials, the Centers for Disease Control and Prevention, the Ohio Department of Health and the National Audubon Society. Guidelines are subject to change as state mandates change. The safety of our members, guests, volunteers and staff is our top priority.
* If you or someone in your household is sick, stay home. Do not visit Aullwood if you have a fever, persistent cough or shortness of breath. Please do not attend programs if you are feeling ill, have any of the symptoms of COVID-19 or were exposed to someone who has tested positive for COVID-19 within the past 14 days.
* We recommend you wash your hands or use hand sanitizer before and after your visit.
* At this time, masks are required for all visitors when inside the Marie S. Aull Education Center, the Farm Discovery Center, or other buildings, regardless of vaccination status; single use masks are available for free if desired. Exceptions will be made for children under the age of 2 and those with medical issues. Please be courteous to staff or volunteers who may ask you to mask up.
* If physical distancing of 6 feet cannot be maintained outdoors, participants must wear a mask, regardless of vaccination status. Otherwise, mask wearing outdoors is optional.
* Understand that some people may wish to continue wearing a mask or maintaining physical distance, even outdoors. Unpleasant behavior that makes a person feel uncomfortable for wearing or not wearing a mask will not be tolerated, and the consequences may include being asked to leave.
* Preregistration is required to attend any walks or programs; call 937-890-7360 or click PREREGISTER NOW on the event page to preregister.
We have made key changes to our facilities and operations in consultation with the Ohio Department of Health, the Governor's Office, the Ohio Museums Association (OMA), the Association of Nature Centers Administrators (ANCA) and the National Audubon Society. We are performing a professional daily deep cleaning of our facilities and frequent cleaning of high-touch areas. We have installed touchless faucets, soap dispensers and paper towel dispensers in the restrooms. Hand sanitizer stations are available throughout the site.
We look forward to welcoming you back to Aullwood Center and Farm! If you have additional questions, please call us at 937-890-7360 or email AskUs@aullwood.org.
How you can help, right now
Get Involved with Our Community
There are many great ways to engage with the Aullwood community! Become a member, see our many volunteer opportunities, learn about internships and more.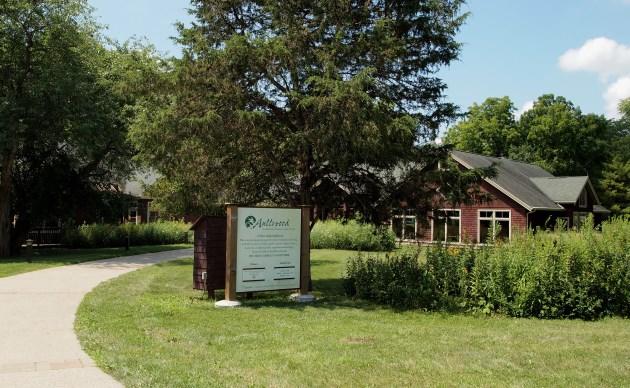 Read Our Newsletter
Our quarterly newsletter Aullwood Member News is the best way to keep up to date on all the wonderful news and events at Aullwood!
See Our Trail Map and Brochure
Find all the details on Aullwood's features and trails (including our new farm paths!) in our latest map, updated August 1, 2021.