Special Event
Native Plant Sale 2020
Pre-Order Only by April 30 • Local plant deliveries May 9 to May 16
[ Download the 2020 Native Plant Sale catalog here! ]
[PLEASE NOTE: Pre-sale ordering for the 2020 Native Plant Sale ended on April 30th. If you have a question about an order you've already placed, please leave a message on our order line at at 937-280-4780 and an Aullwood staff member will return your call as soon as possible. Please watch Aullwood's social media for any additional late-breaking plant sale opportunities, and thank you for your interest in native plants!]
Celebrate Ohio's first ever Native Plant Month by ordering the perfect plants from Aullwood's Native Plant Sale, and then get started planting at home! This year we have over one hundred species and thousands of individual native wildflowers, grasses, trees, and shrubs available. Print out the order form from the 2020 Native Plant Sale Catalog and mail it in, or call in your order at 937-280-4780 by April 30.
Due to the current coronavirus situation, Aullwood's 2020 Native Plant Sale will be pre-order only. No public sale will be held, but we will deliver your plant order directly to your local residence! We are able to deliver as far north as Troy, east to Yellow Spring and Xenia, as far south as Springboro and west to Lewisburg and West Alexandria. If you are not within this general circle, unfortunately we will be unable to deliver to your home. If you would like your plants delivered to a friend or relative who lives within this area, we will be glad to deliver your order to them for transfer to you. We will call ahead to let you know the exact delivery date between May 9 and May 16. We are regrettably unable to schedule specific dates and times in this window. Your plant order will be placed in your driveway, and in keeping with social distancing, the delivery person will be unable to interact with you or carry plants to other locations. Deliveries will happen rain or shine between 8 AM and 7 PM.
We appreciate your understanding during this difficult and unique time! For questions about delivery or any plant sale details, please call our Native Plant Sale Order Line at 937-280-4780. The plant sale pre-order deadline is April 30.
Last September, Ohio designated April as Ohio's first Native Plant Month! This is a great step to protect and preserve the incredible species of native plants and animals that make their home in Ohio. Ohio's native plants are essential to the survival of many birds, butterflies, bees, and animals. By planting native plants, you can create vital new habitat for hundreds of species. What better way to celebrate this historic event than by ordering great native plants? Use Aullwood's Native Plant Sale catalog to begin selecting the perfect native plants and get ready to grow at home, or call 937-280-4780 to order by phone today!
(Image "Baltimore Oriole (male)'' by Ruhikant Meetei, used by permission, all rights reserved)
Learn and Engage with Aullwood
Get Involved with Our Community
There are many great ways to engage with the Aullwood community! Become a member, see our many volunteer opportunities, learn about internships and more.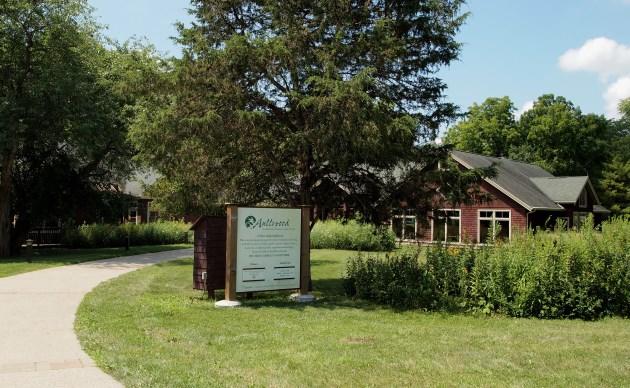 Read Our Newsletter
Our quarterly newsletter Aullwood Member News is the best way to keep up to date on all the wonderful news and events at Aullwood!
See Our Trail Map and Brochure
Find all the details on Aullwood's features and trails (including our new farm paths!) in our latest map, updated July 24, 2020.