Special Event
Native Plant Sale 2021
Pre-Order Only Online March 11 - April 19 • Curbside Pickup April 23 - 25
NOTE: Ordering for the 2021 preorder and pickup only plant sale ended on April 19. Plant orders will be available for curbside pickup at Aullwood Farm, 9101 Frederick Pike, Dayton Ohio on April 23, 24 or 25 during the specific time you selected during checkout. See your order confirmation email for details. Questions? Email nativeplantsale@aullwood.org or call 937-890-7360 and leave a message. Thank you for your support of Aullwood and native plants!
Celebrate Ohio's Native Plant Month by ordering the perfect plants and planting at home! Aullwood's 17th Annual Native Plant Sale brings exciting changes as you can now browse through more than 120 species of native trees, shrubs, wildflowers and grasses via our online store. Each plant's description includes soil and light requirements, whether it provides food for larvae, adult insects or birds, and various photos to help you choose the best plants.
We are offering many customer favorites, as well as species new for this year such as Arrowwood Viburnum, Bayberry, Black Chokeberry, White False Indigo and Rattlesnake Master. This year, you can also preorder rescued wildflowers online, including Virginia Bluebells, Trilliums, Mayapples and more! These special plants are being collected from places where they would get trampled on or mown down and will be listed for sale soon. Quantities of these plants will be very limited, so please check back on our catalog frequently to catch these spring ephemeral wildflowers while you can. Click on the "New Arrivals & Restocked Plants" heading on our plant catalog home page to see all of the most recently added items any time!
Due to COVID-19, Aullwood's 2021 Native Plant Sale will be pre-order only. No public sale will be held, but plants will be available for curbside pickup at Aullwood Farm. Plants will be available for sale online through April 19 at http://plantcatalog.aullwood.org.
Plants must be purchased and paid for online using VISA, MasterCard, Discovery or American Express. We cannot accept cash or checks. Prices vary and will include relevant sales tax. All sales are final. If you need assistance or would like to order over the phone, please call 937-890-7360 and leave a message or send email to nativeplantsale@aullwood.org. Someone will get back to you as soon as possible.
This year, Aullwood is offering curbside pickup from 9:30 AM to 4:30 PM on April 23, 24 and 25 at the Farm Discovery Center, 9101 Frederick Pike, Dayton Ohio. The online store will ask you to select the pickup date and time window that best suits your schedule. When you arrive at Aullwood, friendly and masked staff and volunteers will have your order ready to be loaded into your vehicle. Unfortunately, we are unable to hold plants for you for later pickup.
Why plant native? Native plants provide nutritious food and safe shelter for our wildlife, including pollinators and birds. These beautiful, vibrant plants are lower maintenance and can better tolerate Ohio's seasonal fluctuations. Additionally, many native plants help filter our water, remove pollutants from the air, sequester carbon and mitigate runoff and erosion. Unsure which plants will attract the most wildlife to your yard? Use Audubon's Plants for Birds database at www.audubon.org/plantsforbirds
Profits from Aullwood's Native Plant Sale help to provide the critical funding needed for our ongoing programs of environmental education and habitat preservation in our local area. Have questions? Call 937-890-7360 and leave a message or email nativeplantsale@aullwood.org instead. We truly appreciate your crucial support!

(Image "Baltimore Oriole (male)'' by Ruhikant Meetei, used by permission, all rights reserved)
How you can help, right now
Get Involved with Our Community
There are many great ways to engage with the Aullwood community! Become a member, see our many volunteer opportunities, learn about internships and more.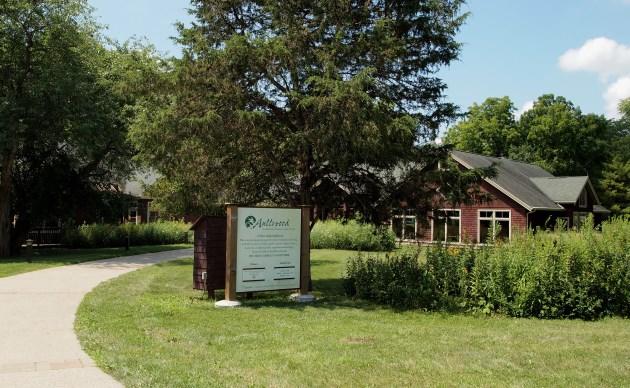 Read Our Newsletter
Our quarterly newsletter Aullwood Member News is the best way to keep up to date on all the wonderful news and events at Aullwood!
See Our Trail Map and Brochure
Find all the details on Aullwood's features and trails (including our new farm paths!) in our latest map, updated August 1, 2021.