Special Event
Native Plant Sale 2022
Pre-Order Only Online • Curbside Pickup April 22 - 24
THANK YOU FOR YOUR ORDERS FROM AULLWOOD'S 2022 NATIVE PLANT SALE! PREORDERS FOR THIS YEAR'S SALE ARE NOW CLOSED.
Have questions about your pre-existing order? Please email us at nativeplantsale@aullwood.org or call 937-890-7360 x214 and leave a message. Thank you for your support!
Aullwood's 18th Native Plant Sale is here! This year's sale features more than 134 species and includes over 33 new offerings. Many spring ephemerals such as Virginia Bluebells, Giant White Trillium, and Jack-in-the-Pulpit will also be available. Aullwood's 2022 Native Plant Sale will be pre-order and pickup only, with plants available for sale online through April 15.
Each plant's catalog description includes soil and light requirements, colorful photos, and ways in which the plant supports pollinators and native wildlife. You can also search for plants based on different variables including sun and shade. Need help deciding which plants will attract the most birds and wildlife to your garden? Check Audubon's Plants for Birds database at https://www.audubon.org/plantsforbirds for assistance. New to the sale this year will be a special selection of items from Aullwood's Nature Store and Gift Shop, including gardening tools, planters, field guides, hummingbird feeders, puzzles, decorative items and more!
When you place your order, the online store will ask you to select a specific date and time for order pickup that best suits your schedule. Orders must be picked up at Aullwood's Farm Discovery Center at 9101 Frederick Pike, Dayton Ohio, during these timeframes:
Friday, April 22: 9:00 AM - 4:30 PM
Saturday, April 23: 9:00 AM - 4:30 PM
Sunday, April 24: 9:00 AM - 12:00 Noon
When you arrive at Aullwood Farm, friendly, masked staff and volunteers will have your order ready to be loaded into your vehicle. Please note that orders must be picked up at the date and time you select upon purchase, as we are unable to hold plants for later pickup. All plant sales are final and Aullwood Audubon reserves the right to make reasonable plant substitutions without notice.
Why plant native? Last year, the State of Ohio designated the month of April as Ohio Native Plant Month to increase awareness of Ohio's native plants and the many benefits they provide to pollinators, Ohio's economy, and the health of Ohio's environment. This year, Senator Sherrod Brown is introducing similar legislation at the Federal level. More and more people are joining the movement to plant native, as they come to understand that native plants provide food and shelter for wildlife, increase biodiversity and attract natural predators that help control pest species.
Profits from our Native Plant Sale provide critical funding needed for Aullwood's ongoing programs of environmental education and habitat preservation. Have questions? Email nativeplantsale@aullwood.org or call 937-890-7360 x214 and leave a message instead. We truly appreciate your crucial support and your love of native plants!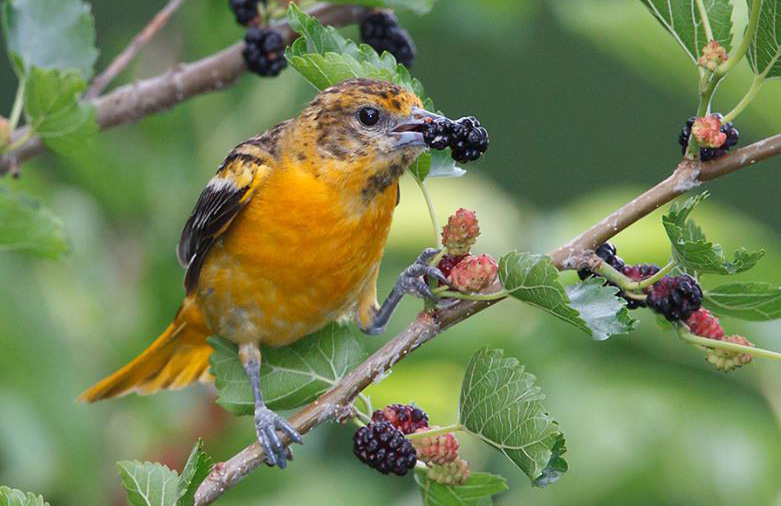 Baltimore Oriole (immature male). Photo: Ruhikant Meetei, used by permission, all rights reserved.
How you can help, right now
Get Involved with Our Community
There are many great ways to engage with the Aullwood community! Become a member, see our many volunteer opportunities, learn about internships and more.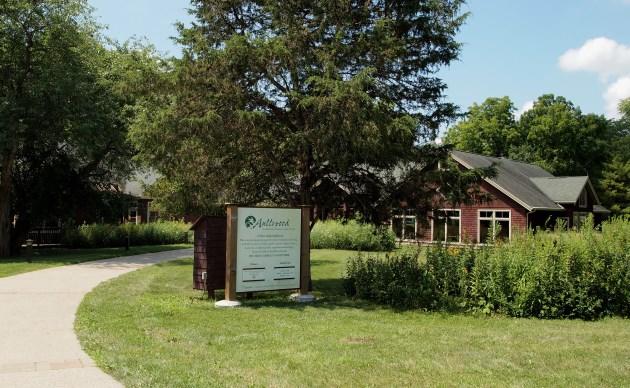 Read Our Newsletter
Our quarterly newsletter Aullwood Member News is the best way to keep up to date on all the wonderful news and events at Aullwood!