Special Event
Winter Speaker Series 2021: Conservation Champions
Join us via Zoom for a fascinating array of guest speakers
Log in with Aullwood Audubon for an online version our yearly winter speaker series! The 2021 series will focus on conservation champions in a variety of communities, including our own. Individuals can have tremendous impact on their communities, oftentimes with very few resources and a lifetime of personal commitment. In honor of their achievements, we have a great lineup of conservation champions to share with you during this year's events.
Registration for each event is $5 for Friends of Aullwood members and $10 for nonmembers. Register for one event or the entire series. Read about each individual speaker and program below, then register for these events online or register by phone at 937-890-7360. Not a member? You can become a member of Aullwood now! Visit our membership page at https://aullwood.audubon.org/membership for information, call 937-890-7360 or visit Aullwood Farm at 9101 Frederick Pike during our regular hours.
Risk to Drinking Water by Forever Chemicals, and Mitigation
Abinash Agrawal, Ph.D.
Professor of Earth and Environmental Sciences, Wright State University
January 10th • 2:30 PM
Per and polyfluoroalkyl substances — also known as PFAS — are a group of manmade chemicals that came into use in the 1950s and 1960s in a wide variety of industries that manufacture products such as nonstick cookware, firefighting foams, fast food wrappers, and microwave popcorn containers. These chemicals are used in literally thousands of products around the globe. In 2016, communities in 27 states discovered that their
drinking water was contaminated by PFAS compounds. Learn more about what these compounds are, how they get into our drinking water, and what health risks have been connected to these chemicals.
Darryl Haddock, Education Director, West Atlanta Watershed Alliance
January 17th • 2:30 PM
Darryl has over 20 years of professional experience as an environmental scientist working for the consulting firm, Dames and Moore, as a principal investigator with USGS on a subsurface mapping project and as Environmental Specialist for the State of Georgia, Environmental Protection Division. Both Environmental Leadership Program and Toyota Together Green/National Audubon Society recognized him as a fellow and emerging leader in the environment and conservation movements.
Rivers and Streams of the Miami Valley — and How Citizens Can Make a Difference to Protect Them
Sarah Hippensteel Hall
Manager, Watershed Partnerships, Miami Conservancy District
January 24th • 2:30 PM
What is more important than water? Let's talk about rivers and aquifers and how you can take some easy steps to make sure clean water is here now and in the future.
Pearl's Fen: the Protection and Restoration of a Diverse and Beautiful Wetland
Dave Nolin
President, Beaver Creek Wetlands Association
January 31st • 2:30 PM
The Dayton region once had many fens and wet prairies that were home to a rich diversity of life, but most of them have been lost to land development and agricultural conversion. This presentation will focus on how one of these diverse and beautiful wetlands was identified, protected, and restored to its original wonder.
Wayne National Forest: A Forest and its Watersheds Return
Joe Brehm
Environmental Education Director, Rural Action
February 7th • 2:30 PM
Learn about Ohio's only National Forest, an area that was heavily impacted by acid mine drainage from the coal mining industry. Joe will speak on its history, current restoration and the revival of watershed communities in pursuit of a healthy ecosystem capable of supporting biodiversity once again.
Little Miami River: Ohio's First Scenic River
Hope Taft, Little Miami Watershed Network
Bill Schieman, Ohio Certified Volunteer Naturalist
February 21 • 2:30 PM
Zoom in to learn more about the Little Miami River. Do you know how Ohio got the country's first scenic river program and its Dayton connection? Did you know the Little Miami River once flowed north? Learn more interesting facts about Ohio's first state and national scenic river.
Surprising Success of the Stillwater River
Aaron Rourke
Scenic Rivers Southwest Regional/ Manager, Ohio Department of Natural Resources
February 28th • 2:30 PM
Learn about the current state of the Stillwater River, and the conservation efforts and recent findings that make this scenic river in an urban setting so special.
Learn and Engage with Aullwood
Get Involved with Our Community
There are many great ways to engage with the Aullwood community! Become a member, see our many volunteer opportunities, learn about internships and more.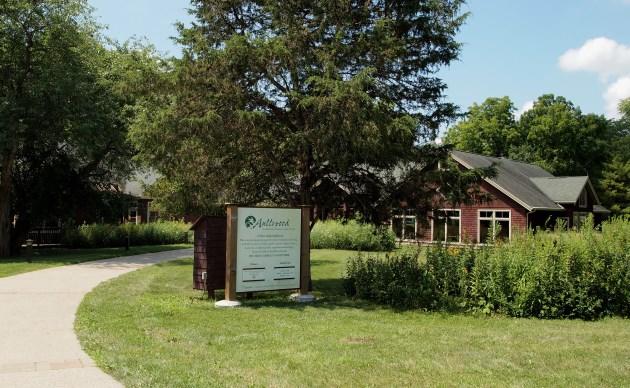 Read Our Newsletter
Our quarterly newsletter Aullwood Member News is the best way to keep up to date on all the wonderful news and events at Aullwood!
See Our Trail Map and Brochure
Find all the details on Aullwood's features and trails (including our new farm paths!) in our latest map, updated July 24, 2020.