Special Event
Winter Speaker Series 2022: Conservation Champions
Join us either in person or via Zoom for a great array of guest speakers
Log in or meet up at Aullwood Audubon for our 2022 hybrid in-person and virtual speaker series! We will have 50 in-person openings in the Aullwood Nature Center Auditorium at 1000 Aullwood Road, with additional virtual openings for up to 300 people so you can still join us from the comfort of your own home. We will be exploring nature and experiencing the wonders of the animal kingdom with experts in their fields for this five-part speaker series on Sundays at 2:30 PM in January and February. You can register for all five events or just the ones that catch your attention now at http://store.aullwood.org

Non-members attending physically pay regular Aullwood admission (free for children 3 and under, $8.00 for children 4 to 12, $12.00 for adults 13 to 64, and $10.00 for seniors age 65 and over and active duty military members) while non-members joining from home pay $10 per virtual access. Members of Friends of Aullwood and National Audubon Society are admitted free of charge, either physically or online. Not a member? Visit our membership page at https://aullwood.audubon.org/membership for information on becoming one, visit our front desk during regular business hours, or call us at 937-890-7360.

Register for these events online at http://store.aullwood.org now. For more information, please email AskUs@aullwood.org or call 937-890-7360. Thank you for supporting Aullwood's environmental programming!
THE EAGLES OF DAYTON, OHIO
Jim Weller - Eastwood Eagle Watchers
January 16th • 2:30 PM
Jim will join us in person at the Aullwood Audubon Nature Center, with the opportunity to ask Jim questions after his presentation.
The Eastwood Eagle Watchers is a group of eagle enthusiasts based in Dayton, Ohio. They share a great appreciation for wildlife in general and an unbridled admiration of the Bald Eagle. About 10 years ago, Bald Eagles started calling Dayton their home. Jim Weller started this eagle club in the Miami Valley and has spotted and photographed dozens of eagles at Carillon Park and Eastwood Metropark. Bald Eagles, once on the endangered species list, are now considered a "conservation champion" as many laws and environmental acts have brought the species back, removing them from the endangered species list. Join us as Jim shares his experiences watching these wonderful birds.
GRAY FOXES IN THE MIDWEST UNITED STATES: AN IMPENDING EXTIRPATION IN OUR OWN BACKYARDS
Suzie Prange, Ph.D. - Appalachian Wildlife Research Institute
January 23rd • 2:30 PM
Suzie will be joining us via Zoom and her presentation viewed live at the Aullwood Audubon Nature Center, with the opportunity to ask Suzie questions afterward.
Suzie Prange received her B.S. and M.S. in Biology from the University of South Alabama and her Ph.D. in Wildlife Biology from the University of Missouri. She also completed post-doctoral training at Ohio State University and was employed by the Ohio Division of Wildlife where she served as the State's furbearer biologist for over 10 years. The majority of her recent research has been dedicated to threatened and endangered forest wildlife species, and she has worked extensively with the previously state-endangered Bobcat. In addition to Bobcats, she has worked with a number of carnivore species, authoring over two dozen peer-reviewed papers. She has served on several executive boards and committees within The Wildlife Society and the American Society of Mammologists. Currently, she is dedicated to independent wildlife conservation research in Ohio's Appalachian region with a focus on Gray Fox populations.
BIRD BANDING IN OHIO
Bob Scott Placier - Former Hocking College Instructor
January 30th • 2:30 PM
Bob will join us in person at the Aullwood Audubon Nature Center, with the opportunity to ask Bob questions after his presentation.
Bob Scott Placier holds a Master's Degree from Ohio University in Environmental Studies and has banded over 20,000 birds under his own permit. Bob also studies the hard-to-find Saw-whet Owl. Come and learn more about the fascinating practice of bird banding and the benefits of understanding bird behavior and shifts in the bird populations by attaching little bracelets to a bird's foot. He has many great stories and knowledge that you won't want to miss.
UNDERSTANDING (AND EVEN APPRECIATING!) TREE GALLS
Joe Boggs - Assistant Professor, Ohio State University
February 6th • 2:30 PM
Joe will be joining us via Zoom and will be viewed live at the Aullwood Audubon Nature Center, with the opportunity to ask Joe questions after his presentation.
Tree galls are the most obvious and least damaging of any abnormal plant growths found on trees. They may not be harmful, but it's common for landowners to insist these largely untreatable growths be treated. Discover the secrets behind these remarkable plant structures including how galls are formed and their true impact on tree health. Joe Boggs averages over 100 teaching presentations per year. He's published articles in the Tree Care Industry Association (TCIA) Magazine, Landsculptor (Michigan Green Industry Association), the Buckeye Arborist, the Society of Commercial Arboriculture Newsletter, and the Canadian Groundskeeper. Joe is a frequent contributor to the Buckeye Yard and Garden Line blog. His weekly radio segment, "Buggy Joe Boggs Report," runs from April through October on the Saturday morning show, "In the Garden with Ron Wilson." The Cincinnati show is syndicated to 34 radio stations in 12 states. Join us as he speaks about the incredible world of plant galls and how insects manage to lay their eggs and have them protected by plant growth.
CONNECTING PEOPLE WITH NATURE
Susie Creamer - Center Director, Patterson Park Audubon
February 13th • 2:30 PM
Susie will be joining us via Zoom and her presentation viewed live at the Aullwood Audubon Nature Center, with the opportunity to ask Susie questions afterward.
Discover the clever stories that reveal how Baltimore is becoming more "birdy!" From patio gardens and Audubon's Habitat Canoes to pocket parks and public spaces, communities are growing the city for the birds. While people have long been the source of environmental problems, they are also full of creative solutions. Susie Creamer will discuss the surprising diversity of avian species and groundlevel solutions to keeping the birds in "Bird Town." Susie Creamer is director of Patterson Park Audubon Center in Baltimore City, where she and her team weave bird conservation with nature-based education in a multicultural community. Programs and projects of the Center take place in English and in Spanish. Before Audubon, Susie managed education programs at Irvine Nature Center, taught science at St. Paul's, and served as a Peace Corps Volunteer in Paraguay. Susie has a BS in biology from Washington and Lee University and an MS in environmental science from Johns Hopkins University. She speaks regularly to garden clubs, civic groups, and at conferences, including the keynote presentation at teachers' conference held by the Ministry of Education in Panama City, Panama! Susie was named by Baltimore magazine in 2018 as a Baltimore Visionary, in 2020 as a Baltimore Game Changer, and in 2021 as one of 30 Women Shaping Baltimore's Future. Susie and her bird-friendly garden were also recently profiled in Baltimore Style.
How you can help, right now
Get Involved with Our Community
There are many great ways to engage with the Aullwood community! Become a member, see our many volunteer opportunities, learn about internships and more.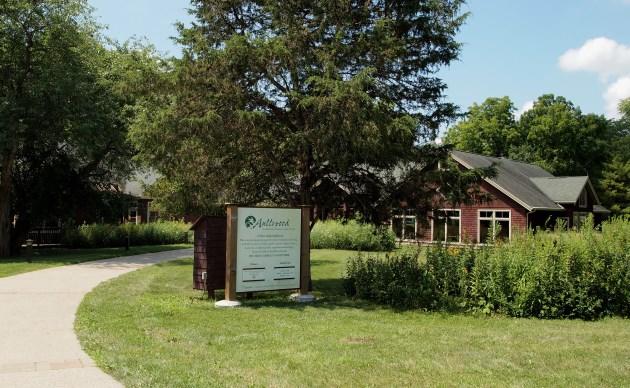 Read Our Newsletter
Our quarterly newsletter Aullwood Member News is the best way to keep up to date on all the wonderful news and events at Aullwood!