About
Become a Member
Explore, discover, and protect Aullwood by joining the Friends of Aullwood
As a Friends of Aullwood member, you and your family can connect with nature and farming for pennies a day. Aullwood's serene sanctuary, nature center, and sustainable farm is just twelve miles north of downtown Dayton and three miles west of the Dayton International Airport. Your support enables us to maintain the 200 acre wildlife sanctuary, provide environmental education programs for tens of thousands children and adults annually, and continue the natural legacy begun in 1957 when Marie S. Aull established one of the Midwest's first nature centers with a gift of land to the National Audubon Society. See the Friends of Aullwood membership brochure at the bottom of this page under "Downloadable Resources" for complete details.
You can join Friends of Aullwood at several levels with a number of different benefits:
Membership Benefits
Free general admission
Subscription to the print version of the Aullwood Member News newsletter
Discounts at the Aullwood Nature Store and Farm Store
Discounted fees on workshops, classes and B'Earthday parties
Free admission to Apple Fest
Membership Levels

Individual — $40 (1 adult)
Student — $20 (under 25 with student ID)
Membership benefits for 1 adult

Senior Couple — $40 (2 adults, 65+)
Membership benefits for 2 adults

Family/Household — $50
Membership benefits for 2 adults & children 18 and under living in the same household

Grandparent/Grandchild—$50
Membership benefits for 1 or 2 adults and their grandchildren age 18 and under

Sustainer — $125
Receives all membership benefits for 2 adults and children age 18 and under, plus two complimentary guest passes to Apple Fest.

Sponsor — $250
All sustaining member benefits plus two complimentary admissions to GLOW.

Patron — $500 and up
All sponsor member benefits and invitations to Aull Society events.

Add-on — $20/per additional name
Allows any membership level to add-on a name to their membership, awarding the same privileges to childcare givers, assistants or other family members. Maximum of two additional names per membership.

Ensure Aullwood's natural legacy. Complete and return the membership form in the Aullwood Membership Brochure below and become a Friends of Aullwood member today!
Learn and Engage with Aullwood
Get Involved with Our Community
There are many great ways to engage with the Aullwood community! Become a member, see our many volunteer opportunities, learn about internships and more.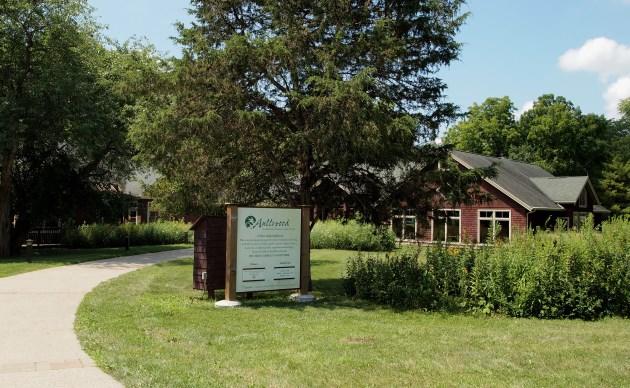 Read Our Newsletter
Our quarterly newsletter Aullwood Member News is the best way to keep up to date on all the wonderful news and events at Aullwood!