Visiting Aullwood
Location, hours, and all the information you need for an enjoyable visit to our Center, Farm and Sanctuary
Locations and Directions
Aullwood consists of two major locations, Aullwood Nature Center and Aullwood Farm, connected by six miles of walking trails running through our beautiful 200 acre nature sanctuary. You can begin your visit at either site, then enjoy a scenic walk in the Nature Sanctuary along trails leading to the other location or take a quick five minute car trip there instead. Your payment at either location pays your admission to both.
Aullwood Nature Center is located at 1000 Aullwood Road, Dayton, OH 45414. Aullwood Farm is located at 9101 Frederick Pike, Dayton, OH 45414.
Hours and Admission
Aullwood is open Monday through Saturday from 9 AM to 5 PM and Sunday from 1 PM to 5 PM. We are closed on most school holidays; please check our Upcoming Events calendar for the latest information on closings.
General admission is free for children 2 and under, $5.00 for children 3 to 11, and $7.00 for adults 12 and over. Members of Friends of Aullwood (our support group) and the National Audubon Society receive free admission with membership card. Special events like Apple Fest can have different fees; please see our Upcoming Events calendar, check our Annual Events listing or contact us to check!
Special Programs and Annual Events
Aullwood has many special programs and annual events you may enjoy! Keep up to date with all the latest happenings on our Upcoming Events calendar, or see our Annual Events listing to see the major events we host throughout the year.
Trail Map
Please see Aullwood's Trail Map and Brochure for a complete guide to Aullwood's farm, center, sanctuary and walking trails, as well as general information about us.
Gift Shop
Aullwood's Nature Store is located near the lobby at Aullwood Center and is open during Aullwood's regular business hours. A visit to our gift store is a great way to take a piece of Aullwood home with you. Aullwood's Nature Store carries hundreds of nature related items, including a variety of bird feeders and houses, children's educational toys and games, nature gifts and crafts. Field guides and birding, ecology and Ohio related books are all topics carried in our book department, along with activity, pop-up and board books for children. All store proceeds help support Aullwood's programs and help us preserve the sanctuary. Remember that a Friends of Aullwood membership entitles you to a 10% discount in Aullwood's Nature Store and much more!
Parking
Ample parking is available at both Aullwood Farm and Aullwood Center, and is free during regular business hours.
Smoking
Aullwood's Farm and Center as well as trails and property are smoke-free. No smoking, including the use of electronic or e-cigarettes, is permitted in any location at any time.
Contact Us
Contact us by calling 937-890-7360 or emailing AskUs@aullwood.org. You can also find us on Facebook, Twitter or Instagram! Some special event listings courtesy of WhoFish (Friends of WhoFish.Org). Our mailing address is:
Aullwood Audubon Center and Farm
1000 Aullwood Road
Dayton OH 45414-1129
Learn and Engage with Aullwood
Get Involved with Our Community
There are many great ways to engage with the Aullwood community! Become a member, see our many volunteer opportunities, learn about internships and more.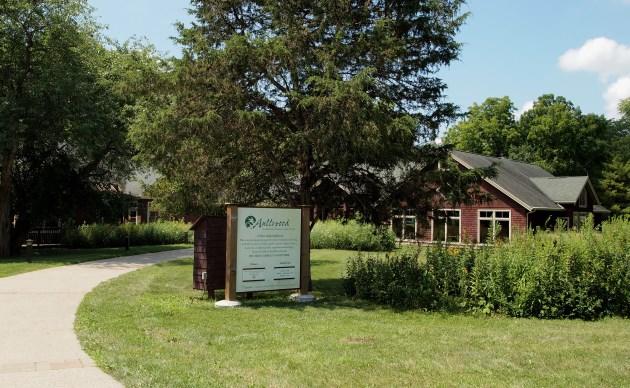 Read Our Newsletter
Our quarterly newsletter Aullwood Member News is the best way to keep up to date on all the wonderful news and events at Aullwood!