Programs
Education Programs
Learn about our extensive educational programs
Education is at the heart of Aullwood's mission. We provide activities that increase understanding and preservation of the planet by children and adults through education, research, and recreation. Aullwood's dedicated Education Staff teaches programs about birds and flight, reptiles and amphibians, maple syrup making at the farm, and many other diverse topics. We enjoy teaching about the interconnectedness of all life, and understanding our important role in the preservation and conservation of our planet. Aullwood Audubon Center and Farm conducts business according to our conservation education beliefs and values regarding stewardship, scientific study and people. We value and believe in:
the inquiring minds of children and their innate desire to learn
natural history learning through hands-on and field experiences
the idea that everyone is a teacher and everyone is a learner
enhancing lives by developing a sense of wonder and providing close contact with nature
empowering experiences which foster appreciation, understanding, and stewardship of the Earth
environmental education promoting lifelong behaviors which protect the natural environment
teaching stewardship by example
respecting and protecting the Earth's diversity
the intrinsic value of green space, agricultural land, and wilderness
sound scientific principles underlying quality environmental education
the importance of understanding ecological concepts and processes
advancing our mission by maintaining a welcoming and friendly atmosphere
strengthening team work through respect, honesty, and open communications
School and Youth Programs
For detailed descriptions of all of Aullwood's school programs, see our comprehensive education catalog attached at the bottom of this page under the "Downloadable Resources" heading. You can also pick up a paper copy at Aullwood's Nature Center or contact us at (937) 890-7360 or AskUs@aullwood.org to request a copy or get additional information. Aullwood currently offers these school programs:
Artist in Residence: Art
Artist in Residence: Music
Aullwood Adventures School Program
Aullwood R.E.A.C.H.E.S. (Real Experiences Arouse Curiosity Helping Everyone Succeed) assemblies:
Aullwood R.E.A.C.H.E.S. is a dynamic outreach program that provides exciting, entertaining and educational assemblies for elementary students. Our assemblies feature the musical and artistic talents of naturalist-teacher Chris Rowlands, a nationally recognized performer teaching children about nature through innovative programs. Chris creatively blends music, art, comedy and education to create high energy, fast paced shows which teach and inspire young people. The Environment Magazine honored Chris by awarding him its first E Award for his environmental education programs.
Birds, Flight, and the Wrights: A Celebration of Flight
Birds of Prey
Candle Dipping
Classroom Visits
Comparing Communities: A Study of Ecology
Farm Visit: self-guided tour
Farmyard Adventures
Feathers and Flight
Geology and Fossils
Geology Explorations: self-guided tour
Maple Syrup
Nature Center Visit: self-guided tour
Nature Explorations
Ohio: Visions of the Past
Scales and Cold Blooded Tales
Scouting and Home School Programs (See our Scouting and Overnight Programs page)
Special Focus on Birds
Special Focus on the Farm
Udder Delight
4-H Programs
Do your kids enjoy visiting Aullwood? Then they'll love to be a part of Aullwood's Wild Wolves 4-H Club! 4-H is a youth organization where young people learn leadership, citizenship, and life skills in a fun, hands-on environment. Aullwood has two 4-H groups, Cloverbuds for children 5 - 8 years old and in 2nd grade and Wild Wolves for children 9 years old and in 3rd grade through 12th grades.
The 4-H'ers participate in many activities including a guided project, farm chores, exploring the pond, volunteering at the Farm Babies Festival, planting vegetables, and creating a float for the Air Show Parade! Meetings are held at Aullwood Farm, 9101 Frederick Pike, on Saturdays from 9:30 - 11:00 AM, monthly. Enrollment closes in February. Club membership fees are $20 for one year; there may be additional costs for project materials and T-shirts. Club size is limited! For more information, contact Aullwood's 4-H representative Tara Pitstick at (937) 890-2968 or tpitstick@audubon.org
Scouting and Overnight Programs
Aullwood's scouting programs are certain to delight scouts of any age with rich hands-on learning experiences, can be tailored to individual group needs, and can include overnight experiences, badge programs, service projects, and more. See our Scouting and Overnight Programs page for complete information.
Adult Programs / Center for Lifelong Learning
Learn more about adult education classes in our current Center For Lifelong Learning (CLL) Catalog available under "Downloadable Resources" at the bottom of this page.
Ecotours
Take an exciting eco-trip with Aullwood! Past trips have included Point Pelee and the Florida Everglades, great places for birding and enjoying other exciting sights, smells, and sounds. See Aullwood's Member News newsletter and and the latest Center For Lifelong Learning catalog under "Downloadable Resources" at the bottom of this page for current tours. Contact Nicole Conrad at (937) 890-7360 or nconrad@audubon.org for more information and registration. Reserve a space now and join these one-of-a-kind birding experiences!
Homeschool Programs
Enhance your child's learning experience with a visit to Aullwood Audubon Center and Farm! Aullwood Audubon Center and Farm hosts Homeschool Field Days, specifically designed for homeschooled children. Explore the prairie, learn about trees, enjoy a tour of the educational center or our organic farm. These programs are guided by one of Aullwood's Aullwood Environmental Education Specialists and are generally limited to 25 students. Please contact Tom Hissong for more information on Field Days, as well as other Homeschool Days, at (937) 890-7360.
Winter Speaker Series
Every winter, Aullwood hosts a series of Speaker events on a variety of topics set to inspire and enrich your understanding and appreciation of the natural world and the diverse forms of life our planet hosts.
This winter, the wonder and beauty of the natural world can be studied in the nearness of our own backyards or nearby woodlands or on exciting trips to distant parts of the world. Mark your calendars and take a weekly Sunday afternoon break from the homebound winter doldrums with this six-week series of great programs. All programs begin at 2:30 p.m. at the Marie S. Aull Education Center, 1000 Aullwood Road. Admission fees are charged for the public; Friends of Aullwood and National Audubon Society Members are admitted for free. When winter approaches, check Aullwood's Member News newsletter for a complete Winter Speaker Series Schedule.
Resources of the Earth and Agriculture Discovered and Shared (R.E.A.D.S.)
Aullwood READS is an innovative program linking students enrolled in an after-school program with volunteers and/or employees from area businesses and Aullwood Audubon Center and Farm. This model initiative, for twenty children in 2nd – 3rd grades, integrates reading and writing skills with hands-on experiences in nature and farming. Children who are enrolled in an after-school learning program visit Aullwood once a week for 90-minute sessions during a four-month period. Aullwood naturalists provide hands-on learning experiences for the children at Aullwood's nature center and organic farm. Caring adult volunteers tutor children, helping them read books on nature or farming that relate to that day's hands-on, outdoor activities in order to improve their reading skills and attitudes toward reading.
Earth Adventures Classes
Aullwood's Earth Adventures Programs offer exciting hands-on activities that enable children to explore the world of nature and farming. Classes explore the many natural habitats at Aullwood including woodland, marsh, pond, stream, prairie and farm. Classes fill quickly so register early!
Winter Earth Adventures
Experience the wonder of winter with Aullwood's Winter Earth Adventures classes! Come on an adventure with us by searching for fresh tracks in the snow, tapping a maple tree or learning more about winter. Classes take place on Saturdays in February and March at the Center and Farm. Read about Winter Earth Adventures offerings in the WEA 2017 Catalog!
Summer Earth Adventures
Join us for a fun filled summer by exploring Aullwood's natural habitats in Summer Earth Adventures classes. Children might meet a hawk, assist with farm chores, search for water critters or watch a butterfly emerge from a chrysalis. Summer Earth Adventures are week-long half day programs that take place in June, July and August at the Center and Farm. Read about Summer Earth Adventures offerings in the SEA 2017 Catalog!
Audubon Adventures
Audubon Adventures (different from Aullwood Adventures!) is Audubon's award-winning environmental education program for any grade 3 - 8 classroom or after-school program. Audubon Adventures offers top-quality nonfiction material from the environmental experts at the National Audubon Society along with captivating hands-on activities. For more, see http://education.audubon.org/audubon-adventures
Avian Art Contest
The Aullwood Avian Art Contest is a contest like no other! Where else can students receive money for art supplies, learn about bird biology, find out the importance of birds and why they should be protected, see birds in their habitat, receive school assemblies or field trips to a nature center, make beautiful artwork and receive great prizes? Each year a number of local schools are involved in the contest. Kindergarten through sixth grade students work from January through March to complete two-dimensional pieces of artwork relating to Ohio birds, endangered birds of Ohio, or neo-tropical birds that migrate though Ohio. The Aullwood Avian Art Contest would not be possible without the generous support of it's sponsors, Robert and Annette Marquardt. This contest is sponsored in memory of Robert's mother Enid Marquardt, a teacher who taught for 30 years in the Dayton school system and loved birds. Come out for a visit in March, April and May to see this colorful and exciting student art exhibit.
Teacher Workshops
Aullwood hopes to enrich and instill a "sense of wonder" in teachers who are looking to expand their knowledge in natural history topics, environmental education, and nature interpretation and teaching. Programs in the past have included "Birds, Flight, and the Wrights", a program about the natural history of our feathered friends and how Ohio's own Wright brothers may have been inspired by them. Contact Aullwood's Education Coordinator, Thomas Hissong, at (937) 890-7360 for information on current offerings or for future workshops.
B'Earthday Parties
If you're looking for an exciting way to celebrate your child's next birthday party, look no further! A B-Earthday party is a fun and educational way to celebrate your child's special day. For details, see our Birthday (B'Earthday) Parties page.
Aullwood Adventures Preschool
Aullwood Audubon Farm is the site of Miami Valley Child Development Centers' farm-based pre-school. Contact the Miami Valley CDC for more information at 937-226-5664 or visit their web page at http://www.mvcdc.org
Scheduling a Visit
Please call (937) 890-7360 to schedule a visit. Remember that adults and children pay admission to Aullwood. If you or one of your students is a member of Friends of Aullwood or the National Audubon Society, the self-guided visit fee is covered. Guided programs have an additional fee which members and non-members must pay.
If you want to eat lunch at Aullwood, we have places to picnic on the lawn, or on porches, pavers, or decks. During inclement weather, you may picnic in our buildings. You must bring trash bags to take the lunch waste back to your school. We do not have the capacity for the trash generated by up to 1,000 students each week.
We require that classes visiting Aullwood limit each visit to either the Farm and its adjoining trails or the Center and its adjoining trails. We do this to maintain the high quality of experiences for all groups. All programs are held as scheduled, rain or shine. Comparing Communities field experiences involves visits to both the Center and Farm.
Please be aware that all programs are held rain or shine as scheduled. In case of severe weather that prevents outdoor exploration, hands-on indoor activities will be conducted. Cancellations must be made 14 days in advance of the program, otherwise the school will be billed for the cancelled program.
Learn and Engage with Aullwood
Get Involved with Our Community
There are many great ways to engage with the Aullwood community! Become a member, see our many volunteer opportunities, learn about internships and more.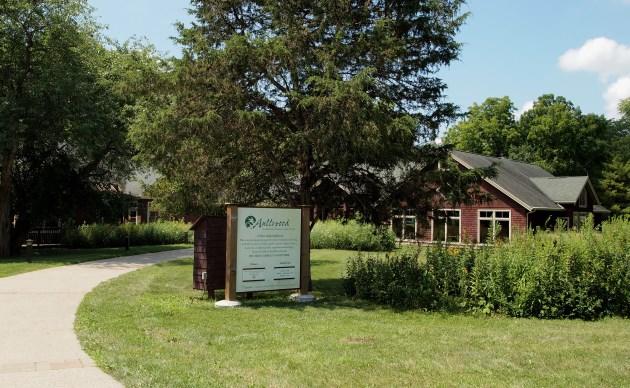 Read Our Newsletter
Our quarterly newsletter Aullwood Member News is the best way to keep up to date on all the wonderful news and events at Aullwood!