Programs
Scouting Programs
Learn more about our Scouting Programs
"Program was wonderful... Many of the parents and scouts had never been to Aullwood before, and I believe they were very impressed by the facility and more so the event itself... Great job!" --- Ed Opferman, Cub Scout Pack Leader
A visit to Aullwood is certain to delight scouts of any age with a rich, fun, hands-on learning experience. Scouting programs are tailored to individual group needs and can include badge programs, service projects, and more.
Badge Programs
"We had a wonderful time! I know my troop is high energy but you handled them beautifully... Thank you so much for making learning so much fun!" --- Mary Ann Smith, Junior Girl Scout Troop Leader
Are you looking for a new learning environment for your scouts? Do you lack the resources or expertise to help them earn a coveted badge? Whatever your reason for visiting Aullwood for a badge program, scouts are sure to have a blast as they learn from our experienced educators and explore the outdoors. Prepare for an exciting adventure!
Service Programs
There is a wide variety of service projects available to scouts, depending on their interests and ability level. Whole groups of scouts can participate in a large activity together, or individual scouts can plan a smaller project. In the past, service projects have included building boardwalks, removing invasive species, helping with farm chores, and more! For inquiries about service projects, call or email us to get connected with an Aullwood staff member with expertise in your area of interest to help plan your project.
If you have other questions or would like to get started planning your event, please call (937) 890-2968 or email scoutprograms@aullwood.org for more information. We look forward to sharing an unforgettable experience with you!
Learn and Engage with Aullwood
Get Involved with Our Community
There are many great ways to engage with the Aullwood community! Become a member, see our many volunteer opportunities, learn about internships and more.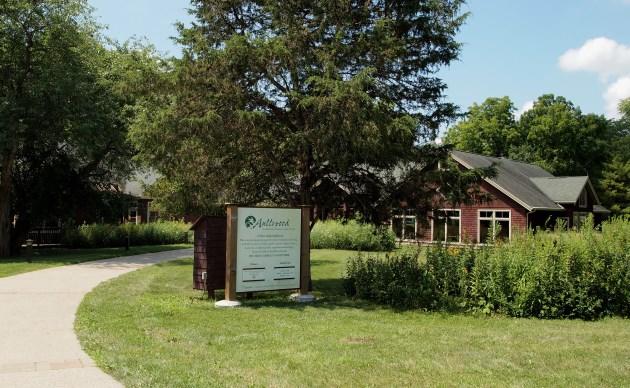 Read Our Newsletter
Our quarterly newsletter Aullwood Member News is the best way to keep up to date on all the wonderful news and events at Aullwood!