Programs
Scouting Programs
Learn more about our Scouting Programs
Take advantage of the natural resources at Aullwood through our girl scout badge programs. Scouts are sure to have a blast as they learn from our educators and interns, and explore the great outdoors!

Aullwood Audubon's 200 acre sanctuary is the perfect place for girl scouts to learn all about the natural world. Bring your troop for an unforgettable visit! Badge programs at our nature center include a hike through our diverse variety of ecosystems, meeting our nature center animals, and other fun activities. Programs at our farm include walking around the farm meeting and learning about our animals, and exploring our gardens!

Badge programs are offered on Saturdays from 10-11:30 AM. The fee is $6 per scout and $7 per attending adult. Siblings of scouts over the age of five can also participate for $6. These fees are paid upon your arrival. There is a maximum of 16 kid participants and a $50 minimum fee. For reasons other than extreme weather, there is a $25 cancellation fee. All programs include a hike or outdoor exploration and we will plan to go outside unless there's pouring rain, thunder/lightning, or extreme snow. We offer the following badge programs:


Daisy: 3 Cheers for Animals and Flower Garden
Brownie: Hiker, Bugs, Senses, Pets
Junior: Gardener, Flowers, Animal Habitats
Cadette: Trees


Aullwood is only twenty minutes from downtown Dayton and a five minute drive from the Dayton airport. To get started planning your programs, please call (937) 890-2968 x201 or email scoutprograms@aullwood.org. Please have three dates or months in mind, so we can check our schedule and get back to you with our availability. We look forward to working with your troop!
Learn and Engage with Aullwood
Get Involved with Our Community
There are many great ways to engage with the Aullwood community! Become a member, see our many volunteer opportunities, learn about internships and more.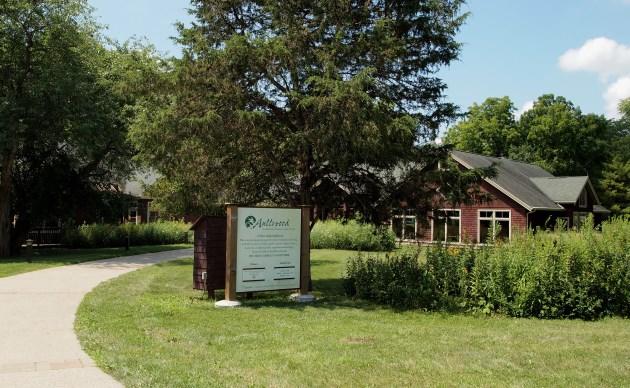 Read Our Newsletter
Our quarterly newsletter Aullwood Member News is the best way to keep up to date on all the wonderful news and events at Aullwood!