Programs
Education Programs
Learn about our extensive educational programs
Education is at the heart of Aullwood's mission. We provide activities that increase understanding and preservation of the planet by children and adults through education, research, and recreation. Aullwood's dedicated education staff teaches programs about birds and flight, reptiles and amphibians, maple syrup making at the farm, and many other diverse topics. We enjoy teaching about the interconnectedness of all life, and understanding our important role in the preservation and conservation of our planet. Aullwood Audubon conducts business according to our conservation education beliefs and values regarding stewardship, scientific study and people. We value and believe in:
the inquiring minds of children and their innate desire to learn
natural history learning through hands-on and field experiences
the idea that everyone is a teacher and everyone is a learner
enhancing lives by developing a sense of wonder and providing close contact with nature
empowering experiences which foster appreciation, understanding, and stewardship of the Earth
environmental education promoting lifelong behaviors which protect the natural environment
teaching stewardship by example
respecting and protecting the Earth's diversity
the intrinsic value of green space, agricultural land, and wilderness
sound scientific principles underlying quality environmental education
the importance of understanding ecological concepts and processes
advancing our mission by maintaining a welcoming and friendly atmosphere
strengthening team work through respect, honesty, and open communications
School and Youth Programs
The OCTOBER 2022 AULLWOOD AUDUBON PROGRAMS FOR SCHOOLS AND GROUPS BROCHURE is available at the bottom of this page under "Downloadable Resources". Contact us at (937) 890-7360 or AskUs@aullwood.org for additional information on school programs. Aullwood offers these programs:
Personal Onsite Tours at Aullwood
+ Life on the Farm Tour
+ The Great Outdoors Tour

Virtual Education Programs
+ Adaptations
+ Avian Investigators
+ Feathered Friends
+ Ohio: Past, Present, Future

Virtual Education Programs
+ Web of Life
Outreach Programs
Outreach programs provide exciting, entertaining and educational assemblies for elementary students. Our assemblies feature the musical and artistic talents of naturalist-teacher Chris Rowlands, a nationally recognized performer teaching children about nature through innovative programs. Chris creatively blends music, art, comedy and education to create high energy, fast paced shows which teach and inspire young people. The Environment Magazine honored Chris by awarding him its first E Award for his environmental education programs. Programs include:
Music Assemblies with Chris Rowlands
+ Farmin' Fever
+ It's Wild Out There

Outreach Programs with Chris Rowlands
+ Artists in Residence: Art (Mini Residency)
+ Artists in Residence: Art (Full Residency)
+ Artists in Residence: Music
+ Young Authors Program
Scouting Programs
Find out more about out scout programs on the Scouting Programs page.
Homeschool Programs
Aullwood can be a valuable resource for homeschool groups. Students gain a better understanding of science, natural history and agriculture through unique experiences at Aullwood. All of our programs for schools and groups for students in PreK through 12th grade are available to homeschool groups. For detailed descriptions of all of Aullwood's school programs, see our OCTOBER 2022 AULLWOOD AUDUBON PROGRAMS FOR SCHOOLS AND GROUPS BROCHURE.
Winter Speaker Series
Every winter, Aullwood hosts a series of speaker events on a variety of topics set to inspire and enrich your understanding and appreciation of the natural world and the diverse forms of life our planet hosts. Admission fees are charged for the public; Friends of Aullwood and National Audubon Society Members are admitted free. Keep an eye on Aullwood's Events page for information on this series as it becomes available.
Resources of the Earth and Agriculture Discovered and Shared (R.E.A.D.S.)
Aullwood READS is an innovative program linking students enrolled in an after-school program with volunteers and/or employees from area businesses and Aullwood Audubon. This model initiative, for twenty children in 2nd – 3rd grades, integrates reading and writing skills with hands-on experiences in nature and farming. Children who are enrolled in an after-school learning program visit Aullwood once a week for 90-minute sessions during a four-month period. Aullwood naturalists provide hands-on learning experiences for the children at Aullwood's nature center and sustainable farm. Caring adult volunteers tutor children, helping them read books on nature or farming that relate to that day's hands-on, outdoor activities in order to improve their reading skills and attitudes toward reading.
Avian Art Contest
The Aullwood Avian Art Contest is a contest like no other! Where else can students receive money for art supplies, learn about bird biology, find out the importance of birds and why they should be protected, see birds in their habitat, receive school assemblies or field trips to a nature center, make beautiful artwork and receive great prizes? The Aullwood Avian Art Contest would not be possible without the generous support of its sponsors, Robert and Annette Marquardt. This contest is sponsored in memory of Robert's mother Enid Marquardt, a teacher who taught for 30 years in the Dayton school system and loved birds. If you are an art teacher interested in having your school participate in the Avian Art Contest, contact AskUs@aullwood.org.
Aullwood's Head Start Nature / Farm Preschool
Aullwood Audubon Farm is the site of Miami Valley Child Development Centers' farm-based preschool. Please contact the Miami Valley CDC directly for more information at 937-623-9396 or visit their web page at http://www.mvcdc.org
Scheduling a Visit
Please complete our PROGRAM VISIT REQUEST FORM to begin scheduling your visit. Remember that adults and children pay admission to Aullwood. Guided programs have an additional fee which members and non-members must pay. All programs are held as scheduled, rain or shine. In case of severe weather that prevents outdoor exploration, hands-on indoor activities will be conducted. Cancellations must be made 14 days in advance of the program, otherwise the school will be billed for the cancelled program.
Learn and Engage with Aullwood
Get Involved with Our Community
There are many great ways to engage with the Aullwood community! Become a member, see our many volunteer opportunities, learn about internships and more.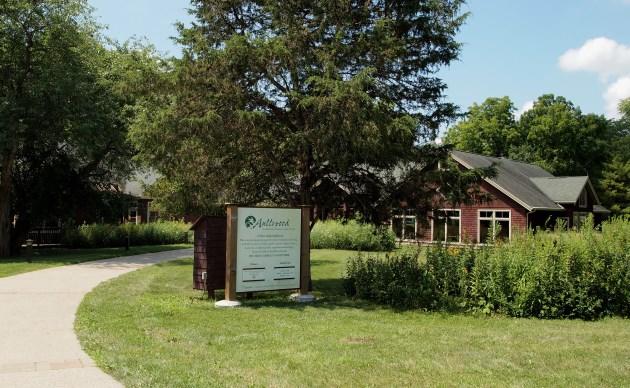 Read Our Newsletter
Our quarterly newsletter Aullwood Member News is the best way to keep up to date on all the wonderful news and events at Aullwood!