Aullwood's Charity A. Krueger Farm Discovery Center
9101 Frederick Pike
Dayton OH 45414
937-890-2968
Welcome to Aullwood Farm, a working sustainable farm full of interesting exhibits, fascinating animals, and fun learning opportunities. Aullwood strives to be a model of local sustainable agriculture in the Miami Valley and direct markets our farm products. Grass-raised beef, naturally raised chickens, pork and turkey, as well as farm fresh eggs are available seasonally for the public to purchase. Local butchers process our meat, and it is available for sale at the farm store. Please note that Aullwood's Farm Discovery Center, farm yard, barns, buildings and trails are smoke-free. No smoking is permitted in any location at any time.
Aullwood Farm's primary crops are grass and forage crops. Cattle graze the areas where these crops are grown and are moved in a rotation to take advantage of fresh forage and allow pasture regrowth. Spelt, oats, straw, and hay are produced, harvested, and used at our farm. Aullwood purchases its natural feed locally. The Farm uses sustainable methods such as grass-based livestock management, conservation-minded farming methods and crop rotation, and does not use synthetic fertilizers or pesticides. Aullwood has also adopted a practice in its crop fields called ECO farming which stands for eternal no till, continuous living cover crops, and other best practices. ECO farming improves soil health, maintains good bacteria growth and keeps the soil temperatures down. This sustainable practice also includes manure management and integrated pest management.
Start your farm visit at the Charity A. Krueger Farm Discovery Center. The Discovery Center welcomes visitors and is the educational gateway to Aullwood Farm. It is the primary educational facility for our agricultural and nature programs but also houses farm offices, learning classrooms where classes such as our annual candle dipping workshops are held, interactive farm exhibits, the Liz Wyse auditorium (available for rental for weddings, parties, and business functions) as well as the Miami Valley Child Development Center (MVCDC) Head Start Preschool.
You will find the large Farm Yard, used for Aullwood's Apple Fest, Farm Babies Fest and other events, just behind the Discovery Center. School groups and visitors can picnic there on sunny days, and kids can climb on the vintage tractor and play in the sand pit. Broiler chickens, which are raised for their meat, can often be seen here in their "chicken tractor", a portable pen which is moved around the Farm Yard from spring through fall. On one side of the Farm Yard is the Wyse Pavilion, a central location from which one can admire the farm's buildings, landscape and animals. This pavilion can also be rented for special functions.
Aullwood's Bank Barn is built in the German heritage style of the 1800's. The foundation is constructed of limestone and small glacial boulders gathered from fields. (If you look closely, you may see fossils in the limestone blocks.) The beams were hand hewn from local hardwoods and are attached by wooden pegs. The longest beam is from a tulip tree and is as long as a 6 story building. A grassy slope leads to the upper level where hay, grains, and straw are stored. The lower level houses a variety of livestock including draft horses, goats, pigs, Highland cattle, barn cats, and other species seasonally. Pastures and buildings around the barn provide habitat for cattle, turkeys and goats.
The Sheep Barn provides a small sheltered pen and adjacent pasture access. This barn is used in the spring during lambing season (March-May). Ewes and their newborn lambs are penned together for the first few days after birth to allow the farmers to keep a close watch on their health and development. In late spring and early summer, the lambs and their mothers are put out to pasture behind the barn. You'll find large Kentucky coffee trees in the adjacent pasture.
Spring Houses like the one at Aullwood were a common feature on many farms in the past. Cool spring waters helped keep milk, cheese, eggs, and other perishables fresh. An adjacent windmill pumps water from the spring to a small stream and wet meadow. Wildflowers and wetland animals find a home here. Look for long-tailed salamanders and crayfish in the water.
The Duck Pond is at the far end of the Farm Yard. Standing on the observation deck here, you can see native wetland plants and animals. Ducks, herons, raccoons, deer, foxes, and coyotes are frequent visitors to the area. The Duck Pond was enlarged in 2004 to provide new educational opportunities.
Heritage Turkeys can be found in their triangular pen. These birds are genetically closer to their wild ancestors than to common farm turkeys. The tom (male) can be frequently seen defending the hen (female) and his territory through his impressive feather display.
The spectacular Greenview Garden Club's Herb Garden can be found by following the access road between the turkey pen and the 'coffee tree' pasture. This garden has been tended for more than three decades, and is home to both native and non-native herbs. Be sure to watch the sundial's shadow change.
The compact Children's Sustainable Garden features a wide variety of vegetables and herbs. Here you can learn about raised bed gardening, composting, mulching and crop rotation. The wide variety of colorful and fragrant plants make this a fun introduction to gardening.
The Chicken Coop building is home to several breeds of layer chickens. Some of Aullwood's programs feature egg collecting, which is exciting because of the wide array of colorful eggs that can be gathered. Farm fresh eggs are almost always available for purchase in the farm store.
The Brood House is where chicks are raised during the summer. They arrive from the hatchery when they are one day old and stay for a few weeks inside the protected brood house until they are old enough to go outside. Heat lamps provide the chicks with warmth when they are newly hatched. The three cow pastures behind the Brood House provide forage for our herd of cattle. A variety of plant species offer a seasonal buffet for these herbivores. You'll often see a Red-tailed Hawk perched along the edge of the field hunting.
Find the Bee Yard by following the path between the cow pasture and entrance drive. The flowers in the pastures and along the woods provide food for thousands of bees and butterflies. Al Tuttle, of Eagle Ridge Apiaries, manages the hives. Aullwood's honey can be purchased at the farm and in the Nature Store at Aullwood's Nature Center.
The 15 acre Sugar Bush woodland features sugar maples and other native hardwoods like beech and cherry. It is a busy place in February and March during maple syrup production. Staff and volunteers tap the trees and harvest the sap, which is boiled down into syrup in the sugar house. Weekend programs give a taste of this Northeastern American native food source. On a walk through the sugar bush, you may spot owls, pileated woodpeckers, wildflowers and a host of mammal species.
Don't forget to keep your eyes open for birdwatching opportunities at the Farm as well. The many fields and hedgerows at the farm provide habitat for resident and migrant grassland bird species such as Eastern Meadowlarks, Savannah Sparrows, Grasshopper Sparrows, Horned Lark, Killdeer and Red-winged Blackbirds. During the day, you can also see Red-tailed Hawks hunting and at dusk, if you are lucky, you will see our resident Great Horned Owl.
After your farm visit, be sure to enjoy a scenic walk through our Nature Sanctuary to Aullwood's Nature Center or take a quick five minute car trip there instead. Enjoy all that Aullwood has to offer at both our Center and Farm.
Learn and Engage with Aullwood
Get Involved with Our Community
There are many great ways to engage with the Aullwood community! Become a member, see our many volunteer opportunities, learn about internships and more.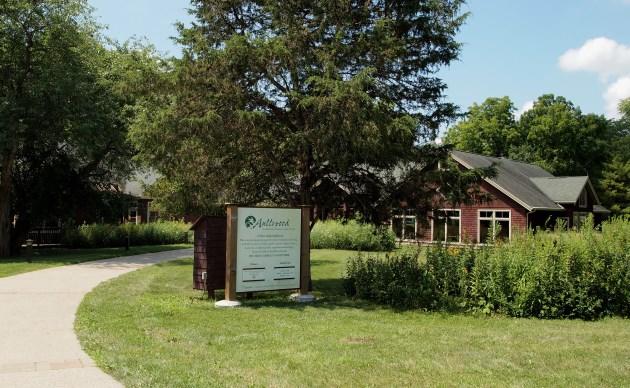 Read Our Newsletter
Our quarterly newsletter Aullwood Member News is the best way to keep up to date on all the wonderful news and events at Aullwood!