Other Event
Aullwood Apple Fest
Sunday, September 23, 2018
10:00am - 5:00pmDayton, Ohio
Location Details
Aullwood's Charity A. Krueger Farm Discovery Center
9101 Frederick Pike, Dayton, 45414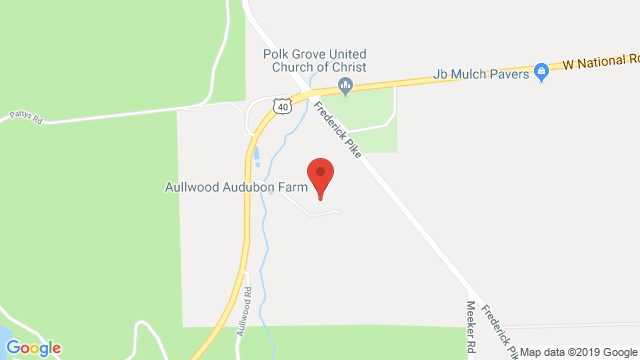 Aullwood's annual Apple Fest happens on Saturday & Sunday, September 22nd & 23rd, from 10 AM to 5 PM! Join us at Aullwood Farm, 9101 Frederick Pike, Dayton OH 45414. Apple Fest admission is free for children 2 and under, $5 for children 3 to 11, and $7 for adults 12 and over. Members of Friends of Aullwood are admitted free with membership card. With delicious food, live entertainment, craft activities and more, Aullwood Apple Fest is a fall treat for all ages. Spend the day enjoying the rustic ambiance of Aullwood Farm and all the sights, sounds and aromas of Apple Fest!
Apple Fest means delicious food! Sample home-made apple pie baked in a Dutch oven, freshly pressed cider, apple butter, apple fries, roasted almonds, lemon shakes, kettle corn, cabbage rolls, pizza, corn-on-the-cob, beef chili, sugar waffles and Ullery's home-made ice cream! Downing Fruit Farms will offer fresh apples and apple slushies. Local food include Bella Sorella Pizza, Oasis Fish Boats, Louisiana Fried & Sides, Dogs for Dogs Hot Dogs and more! Enjoy fall-inspired beers and hard cider from Bonbright Distributors, Warped Wing Brewery and Hairless Hare Brewery! Brookville Optimist sugar waffles, Buckeye chocolate and Ullery's home-made ice cream will satisfy your sweet tooth. Aullwood's delicious apple butter and locally made apple pies are perfect to take away for later!
Fun and free children's activities will keep the little ones entertained with games and crafts and a visit to the PNC Mobile Learning Adventure is truly an adventure with lots of interactive learning and giveaways. Visit farm animal friends, take a tractor pulled wagon ride, and meet Johnny Appleseed for a free apple as he strolls the festival grounds. Miami Valley Dance Council Square Dancers will provide lively entertainment on Saturday, and you can enjoy music from Urban Station on Saturday and Willow Creek on Sunday. Chris Rowlands brings his famous songs and puppets to entertain and educate on both days. Don't miss artisan and craft exhibitors offering needle crafts, animal masks, sand art, painted pumpkins, garden ornaments, wood craft, jewelry, soaps and lotions and other surprises. There's always something more to enjoy at Apple Fest!
Please note that Aullwood's Marie S. Aull Education Center at 1000 Aullwood Road will be closed on Saturday, September 22nd, and Sunday, September 23rd, during Apple Fest. For more information, contact us at (937) 890-7360, email AskUs@aullwood.org or see the Apple Fest 2018 mailer. Hope to see you there!


Aullwood Apple Fest is presented by PNC. Apple Fest is sponsored by Cargill, Dayton Freight, Taft, Stettinius & Hollister LLP, Enterprise Roofing & Sheet Metal, Western Ohio Graphics, Leaf Filter Gutter Protection and Riverdale Optimist Club.
The event schedule for Saturday and Sunday's Apple Fest is as follows:
* * * SATURDAY, SEPTEMBER 22 * * *
10:00 AM - 5:00 PM
Children's Activities (Children's Tent)
10:15 AM, 12:00 PM, 4:00 PM
Songs and Tales of Johnny Appleseed with Chris Rowlands (Bank Barn)
11:00AM - 4:00PM
Tractor-pulled wagon rides (pasture)
11:00 AM -5:00 PM
PNC's Mobile Learning Adventure - Interactive learning and giveaways (Festival Grounds)
11:00 AM, 1:00 PM, 3:00 PM
Urban Station - Southern rock and oldies music (Bank Barn)
1:30- 3:30 PM
Johnny Appleseed meets children (Festival grounds)
2:00 PM
Miami Valley Dance Council Square Dancers (Bank Barn)
* * * SUNDAY, SEPTEMBER 23 * * *
10:00 AM - 5:00 PM
Children's Activities (Children's Tent)
11:00 AM, 1:00 PM, 3:00 PM
Songs and Tales of Johnny Appleseed with Chris Rowlands (Bank Barn)
11:00 AM- 4:00 PM
Tractor-pulled wagon rides (Pasture)
11:00 AM- 5:00 PM
PNC's Mobile Learning Adventure - Interactive learning and giveaways (Festival grounds)
12:00, 2:00, 4:00 PM
Willow Creek Band (Bank Barn)
1:30 - 3:30 PM
Johnny Appleseed meets children (Festival grounds)