You're invited to join us for the 2020-2021 Project FeederWatch season! This winter-long survey is a great opportunity to start bird watching or fine-tune your bird ID skills. Participants periodically identify and count the birds they see from November through March. You can keep a personal list, and you may also choose to officially submit the data to the Cornell Lab of Ornithology. This data helps scientists better understand our winter bird populations as well as long-term trends in bird distribution and abundance.
This year we will be holding Project FeederWatch virtually, using the Zoom platform, and you're invited to join the crew! Brew a cup of coffee or tea, grab a snack and join our Project FeederWatch Zoom call while birding from your home. You are also welcome to join the FeederWatch Zoom call even if you aren't able to have a feeder or bird from home. Everyone is welcome, and it's free to participate in our event.
Project FeederWatch will be on Mondays and Tuesdays from 9:30 - 10:30 AM on the following dates:
November 16 & 17, 2020
November 30 & December 1, 2020
December 14 & 15, 2020
January 4 & 5, 2021
January 18 & 19, 2021
February 1 & 2, 2021
February 15 & 16, 2021
March 1 & 2, 2021
March 15 & 16, 2021
March 29 & 30, 2021
You can also find the 2020-2021 Project FeederWatch dates on our Events calendar.
We encourage you to sign up for Cornell Lab's Project FeederWatch and officially record your data for scientific research. Turn your love of feeding birds into important research information by contributing scientific data to important bird studies! To learn more, visit https://feederwatch.org/about/project-overview/
To join the Aullwood Project FeederWatch community, register in advance at https://audubon.zoom.us/meeting/register/tJEpf-mrqzgiGty6wMP6jPQwcfxugwe6yYhu After registering, you will receive a confirmation email containing information about joining the Zoom meeting.
Need help identifying the birds who visit your yard? Here are some helpful resources:
https://www.allaboutbirds.org/news/
https://www.fws.gov/lab/featheratlas/browse.php
https://www.audubon.org/birding/identifying-birds
https://ebird.org/home
https://feederwatch.org/learn/tricky-bird-ids/
Please contact Aullwood Environmental Educator Sam Romeo at sam.romeo@audubon.org or at (937) 890-7360 x223 if you have additional questions about Aullwood's Project FeederWatch. Thank you!
How you can help, right now
Get Involved with Our Community
There are many great ways to engage with the Aullwood community! Become a member, see our many volunteer opportunities, learn about internships and more.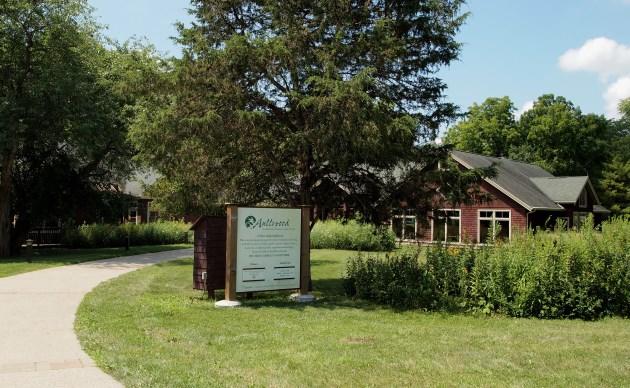 Read Our Newsletter
Our quarterly newsletter Aullwood Member News is the best way to keep up to date on all the wonderful news and events at Aullwood!
See Our Trail Map and Brochure
Find all the details on Aullwood's features and trails (including our new farm paths!) in our latest map, updated August 1, 2021.