Aullwood Farm offers selected locally grown meats, eggs and more for sale at our Farm Store as available. Check back here regularly for the latest news on what we have to offer! Prices are listed below. When you buy at Aullwood, you enable the public to enjoy farm programs, self-guided tours, trails and much more. You also benefit from eating healthy and delicious locally grown food!

Products are sold during our regular hours at Aullwood Farm at 9101 Frederick Pike, Dayton OH 45414. For more information about products or availability, please call 937-890-2968. Thank you for eating local and supporting sustainable agriculture!
CHICKEN
All natural, cage free chicken available for a limited time
Boneless Chicken Breasts (2 pack): $4.50 per pound

Drumsticks (4 pack): $2.99 per pound

Thighs (4 pack): $2.99 per pound

Wings (8 pack): $3.25 per pound

Liver: $1.35 per pound
EGGS
Chicken eggs: $4.50 per dozen
Silkie chicken eggs: $3.00 per dozen
Quail eggs: $3.50 per dozen
BEEF --- NOW 25% OFF!
This 100% grass fed beef is raised by End of the Ridge Farms of West Union, OH. They are passionate about conservation and raise their cattle without growth hormones, steroids or antibiotics. Learn more about End of the Ridge Farms at www.endoftheridge.com
Ground Beef: 1 pound pack, $6.00
Ground Beef Patties: 3 patties per pound, $6.37
Chuck Arm Roast: $6.00 per pound
Chuck Shoulder Roast: $6.00 per pound
Top Blade Roast: $6.75 per pound
Stew Meat: $6.00 per pound
Cubed Steak: $6.00 per pound
Ribeye Steak: $12.75 per pound
Tenderloin Steak: $16.50 per pound
Sirloin Steak: $9.00 per pound
Top Loin Steak: $11.25 per pound
Beef Heart: $2.25 per pound
Liver: $2.25 per pound
Tongue: $2.25 per pound
Suet: $1.50 per pound
Ground Beef: 1 pound pack $8.00
LOCAL HONEY
8 oz Glass Bottle: $7.00
12 oz Honey Bear: $8.00
12 oz Jelly Jar: $8.00
16 oz Jar: $10.00
16 oz Glass Bottle: $11.00
24 oz Jar: $12.50
48 oz Jug: $24.00
MAPLE SYRUP
Pint Jug: $16.00
½ Pint Jug: $12.00
AULLWOOD APPLE BUTTER
Sugar Added or No Sugar Added: $6.00
Learn and Engage with Aullwood
Get Involved with Our Community
There are many great ways to engage with the Aullwood community! Become a member, see our many volunteer opportunities, learn about internships and more.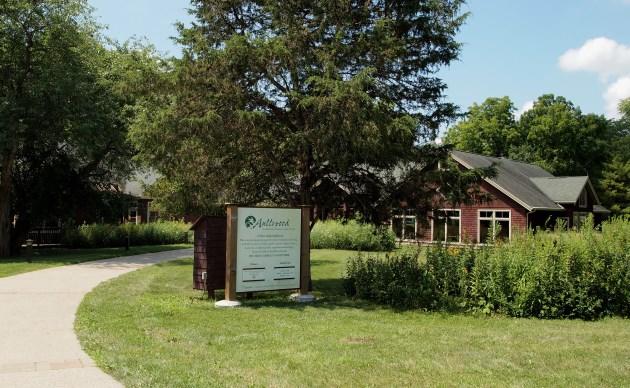 Read Our Newsletter
Our quarterly newsletter Aullwood Member News is the best way to keep up to date on all the wonderful news and events at Aullwood!
See Our Trail Map and Brochure
Find all the details on Aullwood's features and trails (including our new farm paths!) in our latest map, updated July 24, 2020.