Aullwood offers selected locally grown meats, eggs and more for sale as available. Check back here regularly for the latest news on what we have to offer! Prices are listed below. When you buy at Aullwood, you enable the public to enjoy farm programs, self-guided tours, trails and much more. You also benefit from eating healthy and delicious locally grown food!

Products are sold during our regular hours at Aullwood's Nature Center at 1000 Aullwood Road, Dayton OH 45414. For more information about products or availability, please call 937-890-7360. Thank you for eating local and supporting sustainable agriculture!
MILK
Fresh dairy products from Jersey Cows living at Fresh Start Dairy in Jackson Center, Ohio.

Whole

milk
only, pasturized but not homogenized. Learn more about Fresh Start Dairy at
www.freshstartfarm.net
Half gallon whole white milk: $3.50
[Bottle deposit $3.00; bottle must be returned each time]*
Half gallon whole chocolate milk: $4.50
[Bottle deposit $3.00; bottle must be returned each time]*
Quart whole chocolate milk: $3.50
[Bottle deposit $2.50; bottle must be returned each time]*
Pint whole chocolate milk in plastic bottles: $3.00
Cheese curd (various flavors and plain): $4.00
CHICKEN
All natural, cage free chicken available for a limited time
Boneless Chicken Breasts (2 pack): $4.50 per pound

Drumsticks (4 pack): $2.99 per pound

Thighs (4 pack): $2.99 per pound

Wings (8 pack): $3.25 per pound

Liver: $1.35 per pound
PORK
Dark, extra flavorful pork from the heritage Red Wattle pig is now available! Many chefs herald this melt in your mouth delicious pork as some of the best in the world. Various cuts in stock, including sausage, bacon, ham steaks, pork chops and Boston roasts. Prices vary according to cut; please call 937-890-7360 for more details!
EGGS
Chicken eggs (large): $4.50 per dozen
Silkie chicken eggs (small): $3.00 per dozen
Quail eggs (seasonal): $3.50 per dozen
LOCAL HONEY
8 oz Glass Bottle: $7.00
12 oz Honey Bear: $8.00
12 oz Jelly Jar: $8.00
16 oz Jar: $10.00
16 oz Glass Bottle: $11.00
24 oz Jar: $12.50
48 oz Jug: $24.00
MAPLE SYRUP
Pint Jug: $16.00
½ Pint Jug: $12.00
AULLWOOD APPLE BUTTER
Sugar Added or No Sugar Added: $6.00
Learn and Engage with Aullwood
Get Involved with Our Community
There are many great ways to engage with the Aullwood community! Become a member, see our many volunteer opportunities, learn about internships and more.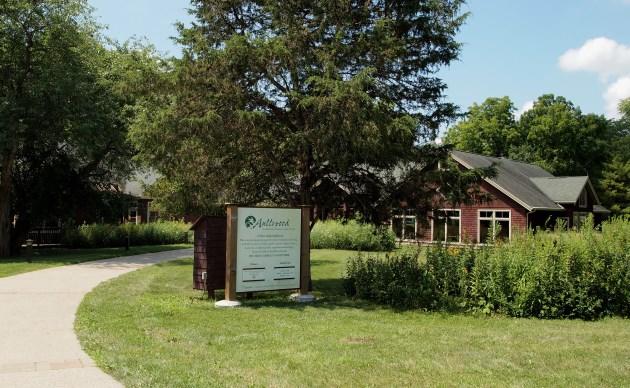 Read Our Newsletter
Our quarterly newsletter Aullwood Member News is the best way to keep up to date on all the wonderful news and events at Aullwood!
See Our Trail Map and Brochure
Find all the details on Aullwood's features and trails (including our new farm paths!) in our latest map, updated August 1, 2021.